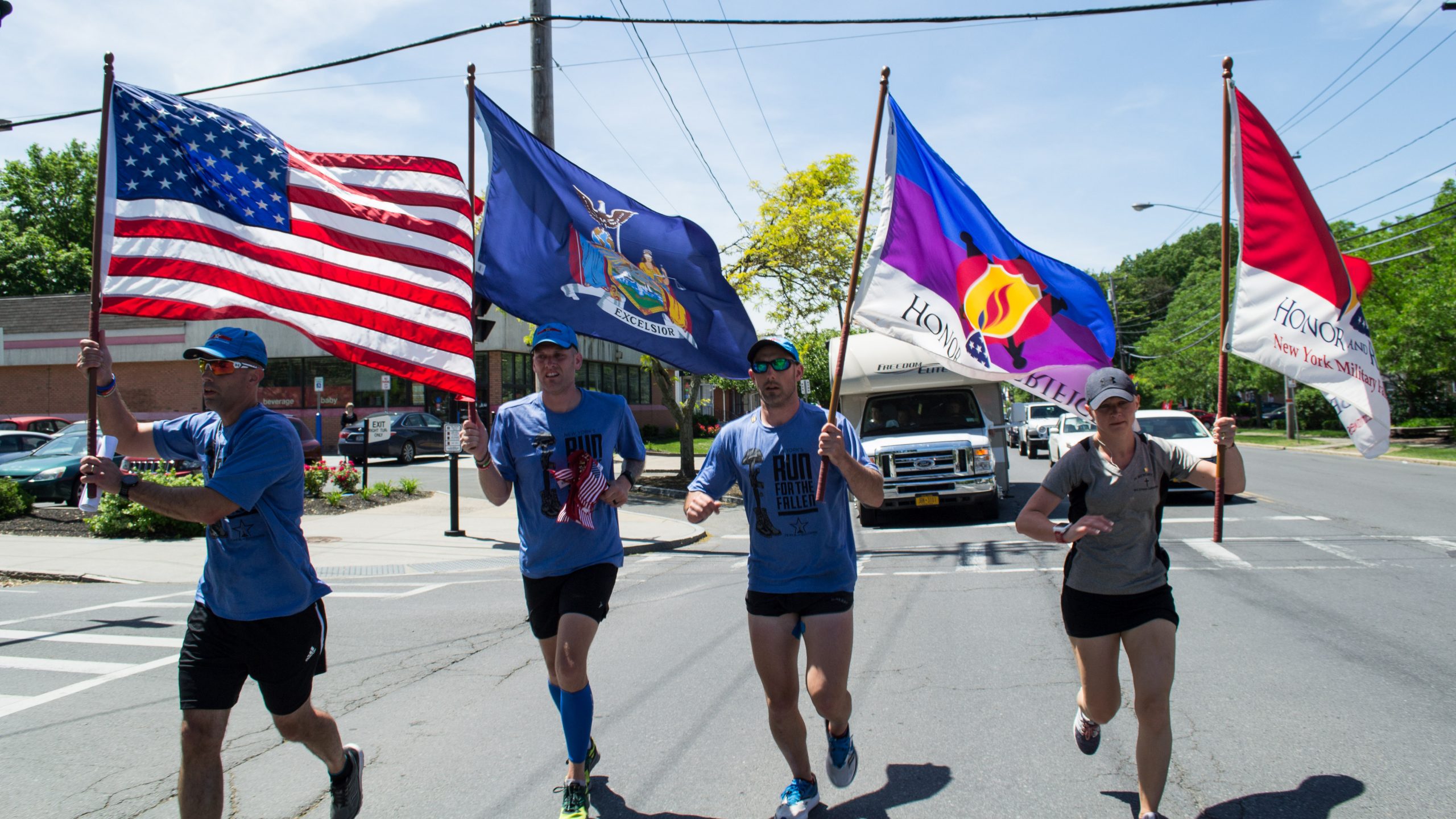 New York Run for the Fallen Timeline...
Important:
The following timings and locations are subject to change as final details are confirmed during the next several months. Visit the route links above to see where each Hero will be honored. Please check back regularly for updates and also follow us on
Facebook...
MODIFIED:



Friday, June 12, 2020 - Day 1
7:30 AM Opening Ceremony
8:00 AM RUN start. Clark Reservation State Park, 6105 E Seneca Turnpike, Jamesville.
Saturday, June 13, 2020 - Day 2, 49 miles
7:00 AM start. Clinton Village Green, Clinton, NY 
Sunday, June 14, 2020 - Day 3, 48 miles
6:00 AM start. Walmart Distribution Center, Sharon Springs, NY 
---
Gold Star Family - Runner Accommodations... (CANCELED FOR 2020)
If Gold Star Families would like to be at their Hero markers and meet at the end of the day we will have a short ceremony and will provide dinner each night. Accommodations will be on your own:
Thursday night - Dinner American Legion Post #1468, 110 Academy Street, Syracuse, NY 13207 7:00 PM.
Friday night - Dinner Resurrection Assembly of God, 44 Kirkland Avenue, Clinton, NY 13323, approx 7:00 PM. Runner Accommodations: Utica College.
Saturday night - Dinner Walmart Distribution Center (#6041), 9721 Highway Route 20, Sharon Springs, NY 13459, approx 5:15 PM. Runner Accommodations: SUNY Cobleskill.
Sunday afternoon - Lunch/Dinner LaFayette Park, Albany, NY, approx 3:15 PM
More details on this will be available as we get closer to our start date.
Please note that all updates, maps, Hero Marker locations, and timings will be made available as they are finalized. Please check back here for updates as they become available or contact us
here
.