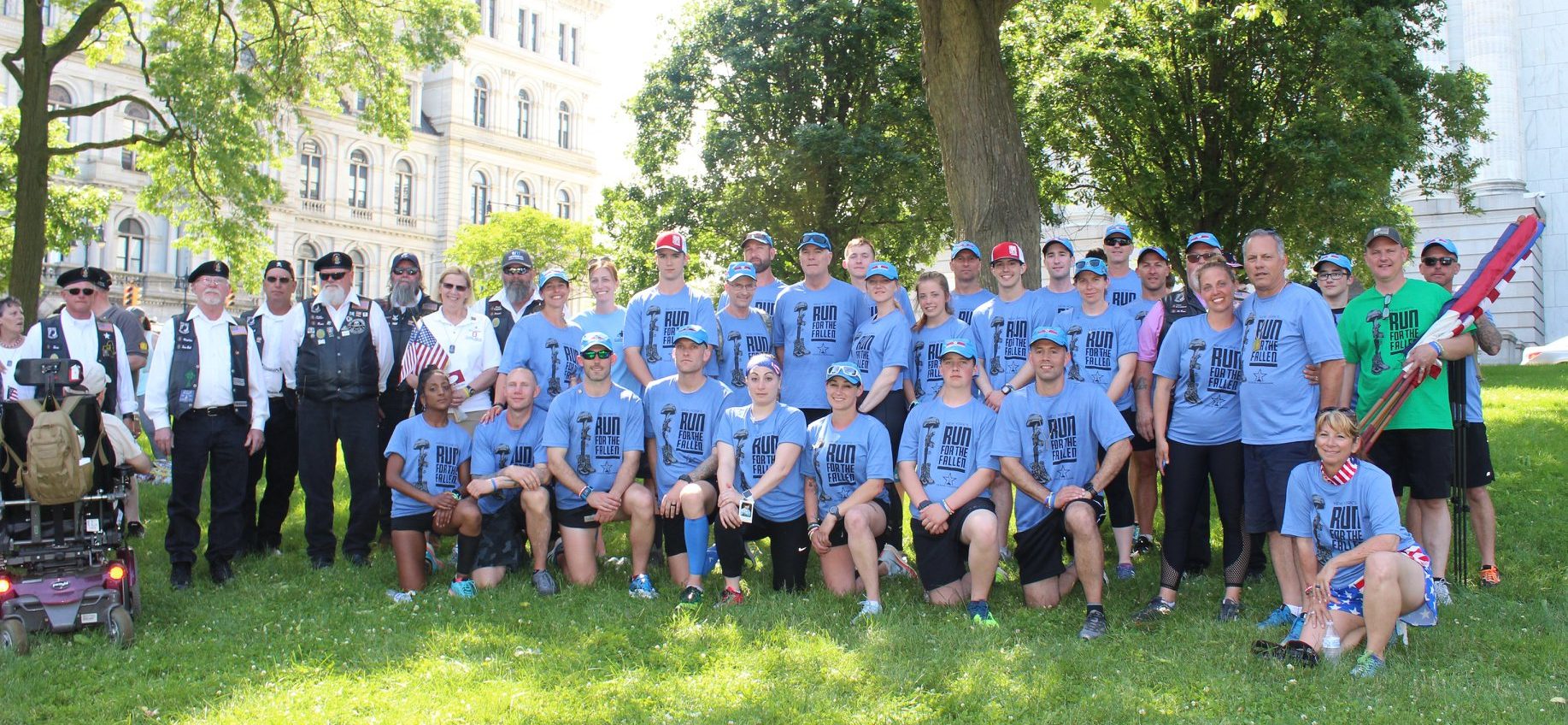 Join NEW YORK's
CORE RUN team
Syracuse to Albany | 150+ Miles
We are assembling a small group (25 maximum) of active or veteran military personnel and dedicated athletes to comprise a core team of runners committed to a 3-day, 150+ mile tribute run from the Veterans and 9/11 Memorials at the NYS Fairgrounds in Syracuse to the Gold Star Families Memorial Monument in LaFayette Park in downtown Albany. The run has a specific timetable for each mile marker throughout each day. Runners need to be flexible, willing to run on any given day, and when needed. RAIN OR SHINE.
Runners will run approximately 2-4 miles between hero markers instead of stopping every mile due to safety concerns. The team will pull completely off the road at the 43 designated Hero Markers along the route, stopping to salute and give tribute by name to each fallen at the designated marker. The team will also greet family, friends, and comrades who may be waiting at the marker.
Each runner must be able to maintain an 8.5 to 9.5-minute mile for a minimum of 1 hour or 6 miles or longer. Core teams will rotate at designated exchanges along the route over the 3-day period. We are not looking for a number of runners, but a solid team dedicated to the remembrance of those who have fallen in service to our country. This route will be grueling at times because of the pace that must be maintained and the many hilly areas along the route.
If you are interested in becoming a part of our core team or wish to run any of the 150+ mile distance, contact Ryan Milton at newyork@runforthefallen.org or fill out our Contact Form.
Meet This Year's NEW YORK
CORE RUN TEAM
ANDREA CARNEY
This is my first year participating in the Run for the Fallen. I am honored to be one of the core runners. I have been a runner my entire life. Being a part of this cause helps to add meaning to my runs. I look forward to honoring our fallen soldiers and their families.
JIM CARRABBA
It is a great honor to be a core runner for the NY Run for the Fallen. As a 23 year veteran and lifelong runner, I feel extremely fortunate to be able to participate. It will be an incredible experience to honor our Fallen Heroes and to pay tribute to the Gold Star families through this running event!
DEB GREEN
My father served 4 years in the Marines and 32 years in the Coast Guard. My husband served from 1989-2001 in the Army and re-enlisted in the Army Guard Reserve since 2017. Our son is currently serving in the Air Force. Doing this run is my way of honoring the service of those who have paid the ultimate price, and their family members. I love running races with my flag for Team RWB, the conversations it starts with people really get them thinking about our service men and women. It is an honor to be a part of the team, running along side some amazing people wanting to Honor our Fallen Heroes.
BETH HARVEY
This is my second year running with the NYRFTF team. Being outside and active is my favorite. I enjoy hiking, biking (road and mountain), running, swimming, cross country skiing, and am still deciding about snowboarding. My husband is a retired US Army CSM and many of my family members have a military affiliation to include an older brother who is retired Army and another brother currently in the Army serving with Special Forces. I have two boys, Ephram who is thirteen and Seeley who is eleven. Most importantly, I run to honor the memory of my brother, SFC Ethan Carpenter, who died in a free-fall training accident in Arizona on March 15, 2019. He was an Army Ranger. I am thankful for the opportunity to Run and Remember all those who have made the ultimate sacrifice and pay respect to them and their families left behind.
JOE GUANILL
I'm a civilian who's been running for myself for several years until I heard about NYRFTF.  I'm so honored to run for the fallen soldiers who gave so much.  This is my fourth year as a core runner and I am proud to be part of the team.
JOE JABLONSKI
Born in Bethlehem, Pa. Graduated from Lehigh University in 1978 with a B.S. in Chemical Engineering. Worked in a variety of Engineering and Management positions in building products manufacturing industry and the nuclear waste management industry in the Baltimore, Md, and Buffalo, NY areas.
Married to Lori for 34 years and the father of Janelle, Casey, and Jason (JJ), who passed away from leukemia while a Senior at the United States Naval Academy in late 2016.
Been running since the mid-80s as a stress reliever. Completed 8 marathons and at least that many half marathons. Most recently on a Streak of 747 consecutive days of running at least 2 miles. Ran a few legs (including JJ's Hero Marker mile) in Central NC in the 2018 National RFTF, and also the 2019 & 2020 NY RFTF.
Proud father of MIDN 1 Jason D. Jablonski, United States Naval Academy, 27 Nov 2016
JESSICA JAQUAY
I live in a small town in upstate New York. I currently work for NYS at a Center for Intensive Treatment as I pursue my degree in criminal justice to become a NYS parole
officer. I have no children so my pets are my kids. I have.a pit bull named Brockway, a cat named
Frankenstein, a horse named Ebony and several hard shell friends in an aquarium. I love to fish, read,
run, spend time with family and whatever else pops into my head. I'm quite spontaneous. I split my
runs between representing Team RWB or NYRFTF/Honor and Remember. I was recruited by Jim
Carrabba to run for the NYRFTF by fate. It happened to be after a 9/11 race (definitely fate) and I was
looking at photos of it on a local running fb page and I recognized Jim. I commented and it was said if I
could keep up with "Steady Jim" then I should run in June with the family that is NYRFTF. I did and never
looked back. This will be my third year running as a core runner and I cannot express how much my life
has changed. Not only has it opened my eyes to the many sacrifices those of our country make but how
too often they go unrecognized. I am honored to be a part of this Mission and will continue to be until
the Lord tells my body I no longer can be.
JEAN KRATZER
I have been in the Army since 2007 and in the New York Army National Guard since 2010 and a long-distance runner for years, this is my second year participating in the NYRFTF. I currently serve full-time as a Public Affairs Officer at the New York State Division of Military and Naval Affairs and also a company commander of the Headquarters and Support Company under the famed Rainbow Division. My debt to the heroic men and women who have fallen for this country can never be repaid, for that, I will run every mile for them and their families and for their ultimate sacrifice.
JASON LAUTRUP
Navy Veteran 2001-2005, Helicopter Electrician. Currently in research and development for pharmaceuticals. Operation Enduring Warrior Community Ambassador and training for the Masked Athlete Team. Run with RWB out of Syracuse. Play rugby in Binghamton and practice Jiu Jitsu in Sidney. Volunteer at Wolf Mountain Nature Center.
ANDY LAPORTA
I have enjoyed running since junior high school. My father encouraged me to run and has been an inspiration Running introduced me to great people, joining in the Run for the Fallen & Ragnar team relays. I am grateful this is my third year to honor the sacrifice of fallen soldiers and their families.
My father served in the U.S. Army.
PATRICK MURRAY
I grew up in NY and have made every effort to return to my roots since I joined the Navy almost 10 years ago. I view The Run for the Fallen as the best possible way of combining my love of running and honoring those that have given their lives in support of our country. This will be my third year participating in this amazing mission.
RYAN MILTON
I live with my wife and two children in Saratoga Springs. I joined the Air Force in 2002 and served 6 years. I currently serve full-time in the Air National Guard, with the 109th Airlift Wing in Scotia, NY. Running has been my passion for many years and I'm thrilled to be able to use running to pay tribute to our brave Heroes. It's an extraordinary honor to be chosen to participate in the NY Run For The Fallen.
KATIE NELSON
This will be my third year participating in the run. I am so grateful I have the opportunity to help honor and remember our fallen heroes each year. I have always loved to run and the mission behind this run makes me love it even more. I am currently a physical therapy student at Ithaca College and enjoy spending time with family and friends!
Matt Pietryka
This is my third year as a core runner. I love the mission and purpose of the run and the belief that no hero should ever be forgotten. The idea of being able to run in honor of those who have given the ultimate sacrifice inspires and motivates me to give life its all every single day. I am honored to have the privilege to run for those who cannot and continue to spread their legacy and remembrance. I am a Sophomore at Norwich University where I participate in AFROTC and currently live in New Hartford, NY.
Megan Rodriguez
How do I adequately express how thankful I am to those who've sacrificed so much for the freedom we enjoy in the USA? My husband is a USMC Veteran (Desert Shield/Storm) and we know dozens of friends and family who've courageously served/serve God and Country as well. I had running stripped from me over a decade ago, but God was gracious to heal me and give this passion back to me. I realized I must now share it, to reach out to and connect with others, instead of hoarding it as "me time." I also run and compete in triathlons to be an example of courage, persistence, and grace to our three (mostly) grown sons. After three years of participating in NYRFTF with limited but increasing duration, I'm humbled and blessed to be chosen as a core runner in 2021. I look forward to running with such a fine group of men and women to speak the names of our fallen heroes. This is my small way of expressing such gratefulness—Honor and Remember!
ANTHONY RINALDI
I'm a retired U.S. Army Combat Veteran. I've lost fellow service members over the course of my career. That is why it's such an honor to be a Core Runner and to remember the ultimate sacrifices that our service members have made for our nation's freedom.
TARA SMITH
This is my third year running with the NYRFTF team. I love our country and all those who have fought, served, and fallen to defend it. This run is an opportunity for me to give thanks to those who protect us every day and those who have given the ultimate sacrifice for our freedom.
KEVIN TRACY
I was introduced to NYRFTF through friends at Team RWB/Syracuse chapter.  This will be my second year supporting the organization and I am honored to have the privilege to honor those who have made the ultimate sacrifice.  I am an Air Force veteran, retired as of December 2017.  I spent six years on Active Duty and after a six-year break in service spent 14 years as a full-time member in the NY Air National Guard at the Eastern Air Defense Sector.  I am currently a Junior ROTC instructor at Rome Free Academy in Rome NY.  I have three children.  My oldest son is graduating high school this year and his sister and brother are only a year behind.  (Yes, twins and yes, I will have three in college at the same time.)
DR. BOB WANSOR
Though not a Veteran myself, as life goes on,  I appreciate more and more the sacrifices that have been made by our brave men and women in our armed forces.
I was introduced to the NY Run for The Fallen by a good Friend, Jim Carrabba (also a core runner).  Running these miles, Honoring and Remembering
those who have made the ultimate sacrifice on our behalf, and on behalf of freedom seeking people around the world, have been the MOST meaningful
miles I have ever, or will ever run.
JOHN WALSTON
I am honored and blessed to participate in this amazing tribute to our Fallen Heros.  As a civilian, I have the utmost respect for our Military and the everyday sacrifices that they choose to make for our Country.  As a seond-year runner, I am thankful that I can run for those who are not able to and that I can support the Gold Star Families.