We are assembling a small group of active or veteran military personnel, Gold Star families, and dedicated athletes to comprise a core team of runners committed to a 4-day, 200+ mile tribute run from the Honor the Mountain Monument in Thompson Park in Watertown to the Gerald B.H. Solomon Saratoga National Cemetery in Schuylerville. The run has a specific timetable for each mile marker throughout each day. Runners need to be flexible, and willing to run on any given day, and when needed. RAIN OR SHINE.
Runners will run approximately 2-4 miles between hero markers instead of stopping every mile due to safety concerns. The team will pull completely off the road at the 62 designated Hero Markers along the route, stopping to salute and give tribute by name to each fallen at the designated marker. The team will also greet family, friends, and comrades who may be waiting at the marker.
Each runner must be able to maintain an 8.5 to a 9.5-minute mile for a minimum of 1 hour or 6 miles or longer. Core teams will rotate at designated exchanges along the route over the 4-day period. We are not looking for a number of runners, but a solid team dedicated to the remembrance of those who have fallen in service to our country. This route will be grueling at times because of the pace that must be maintained and the many hilly areas along the route.
If you are interested in becoming a part of our core team or wish to run any of the 200+ miles, contact Ryan Milton at newyork@runforthefallen.org or fill out our Contact Form.
Meet This Year's New York
CORE RUN TEAM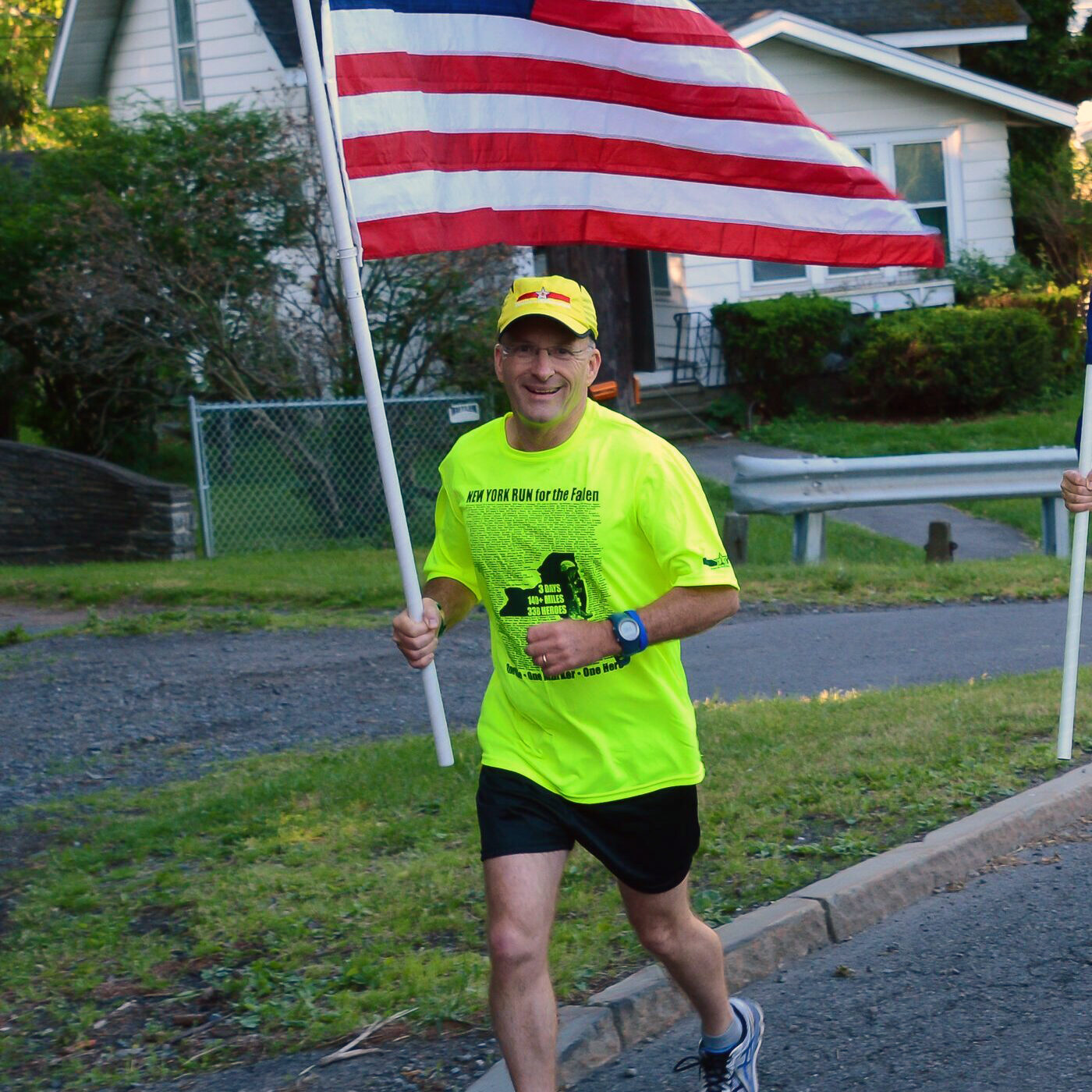 It is a great honor to be a core runner for the NY Run for the Fallen. As a 23 year veteran and lifelong runner, I feel extremely fortunate to be able to participate. It will be an incredible experience to honor our Fallen Heroes and to pay tribute to the Gold Star families through this running event!
NY Run For the Fallen is an opportunity to show our gratitude for the sacrifices, of not only our Fallen service members but to honor their families' sacrifice as well. Being able to run and call out the names of these heroes, allowing their families even a brief moment of comfort knowing their loved one's sacrifice will NEVER  be forgotten, is something I cherish. As a military family member myself, I am grateful and humbled to be a part of something meaningful and special. It is my duty, and an honor to be a part of it.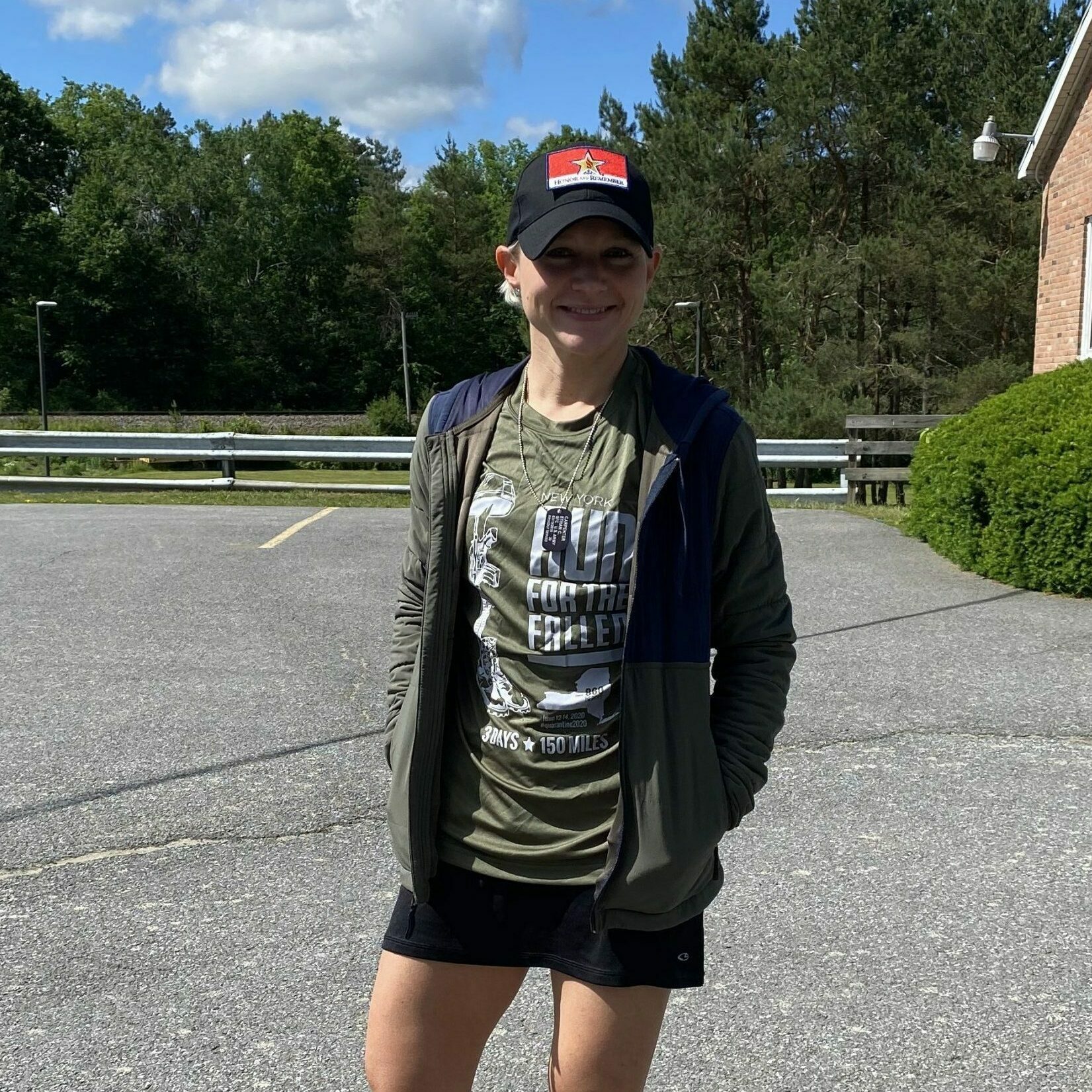 This is my fourth year running with the NYRFTF team. Being outside and active is my favorite. I enjoy hiking, biking (road and mountain), running, swimming, and cross-country skiing, and am still deciding about snowboarding. My husband is a retired US Army CSM and many of my family members have a military affiliation to include an older brother who is retired Army and another brother currently in the Army serving with Special Forces. I have two boys, Ephram who is fourteen, and Seeley who is twelve. Most importantly, I run to honor the memory of my brother, SFC Ethan Carpenter, who died in a free-fall training accident in Arizona on March 15, 2019. He was an Army Ranger. I am thankful for the opportunity to Run and Remember all those who have made the ultimate sacrifice and pay respect to them and their families left behind.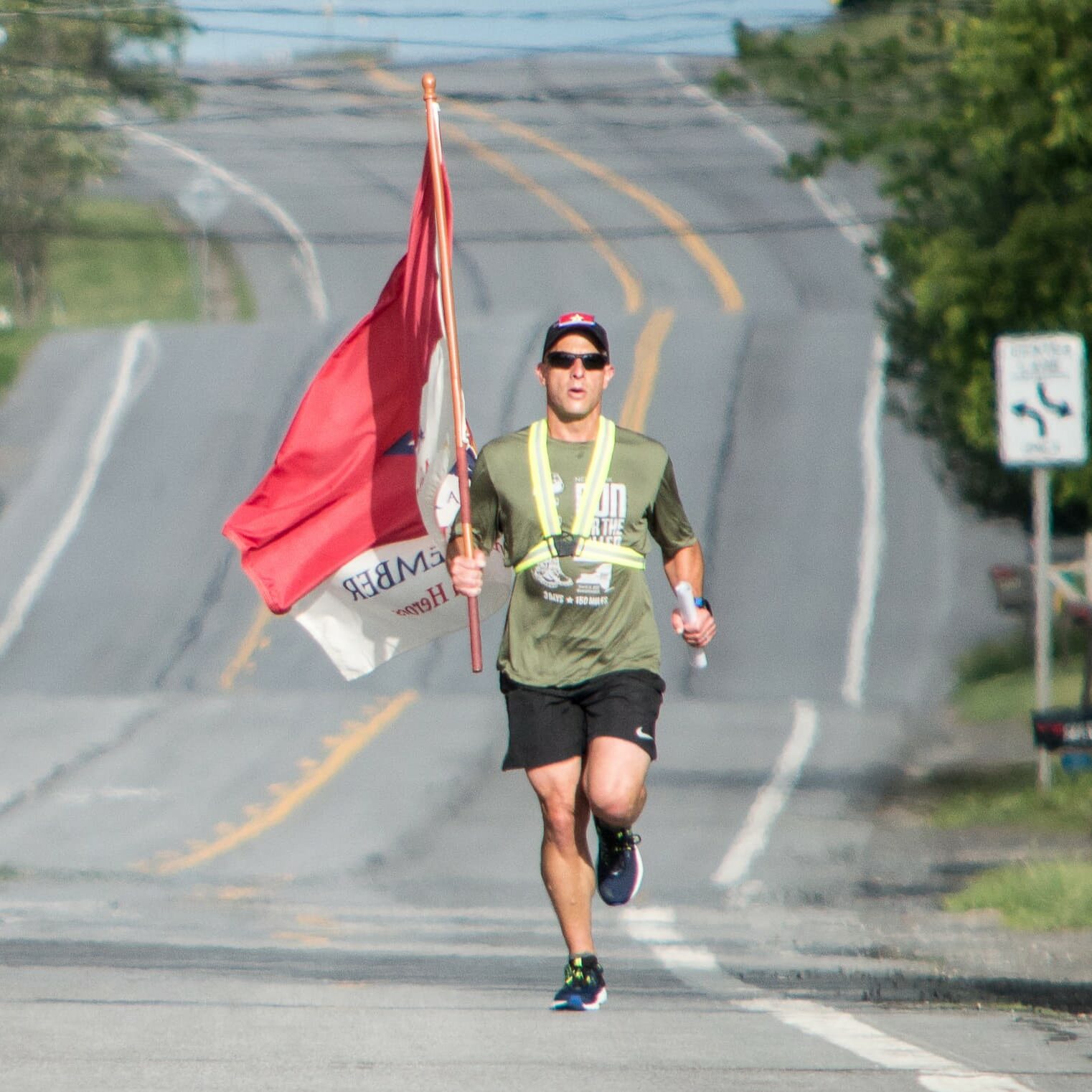 I'm a civilian who's been running for myself for several years until I heard about NYRFTF.  I'm so honored to run for the fallen soldiers who gave so much.  This is my sixth year as a core runner and I am proud to be part of the team.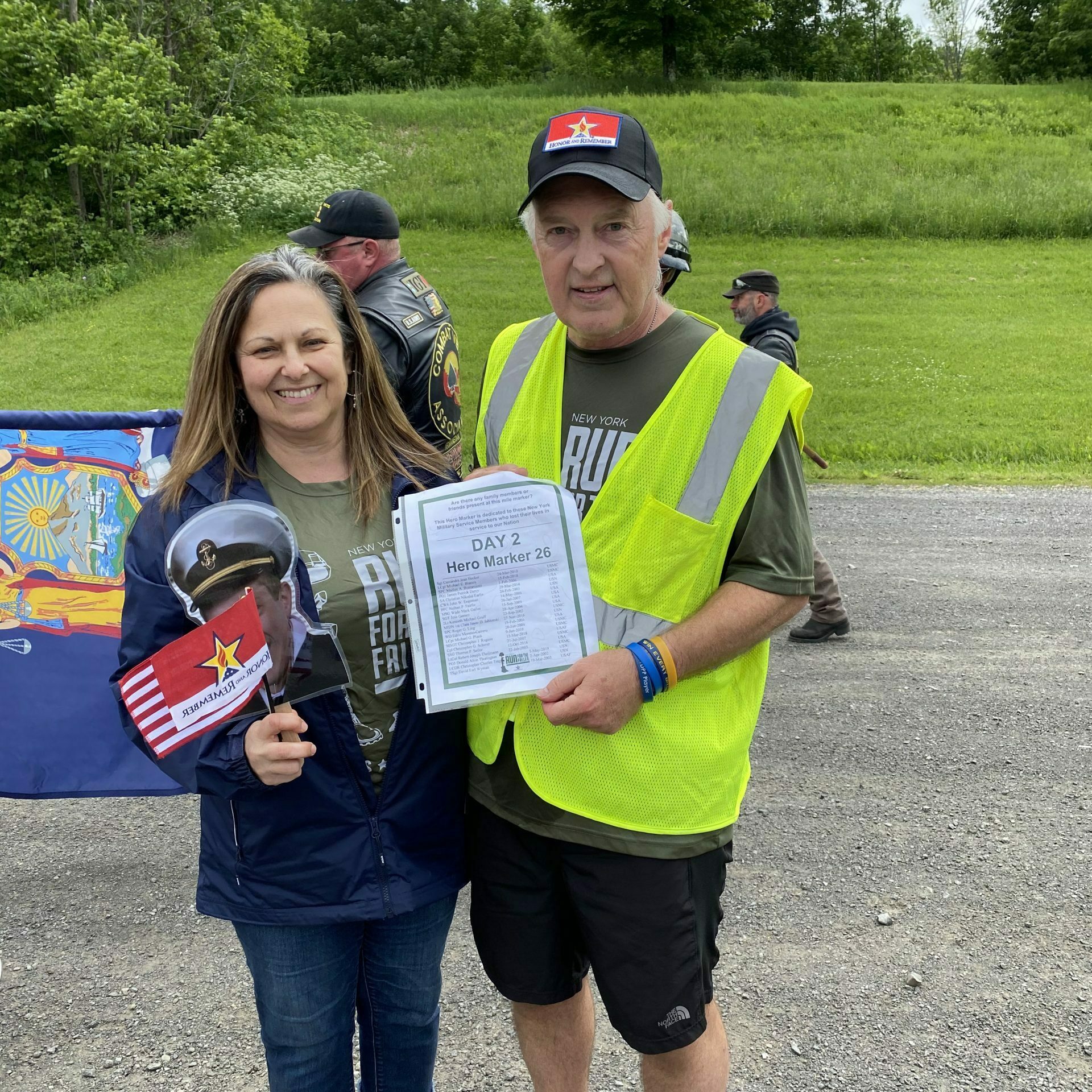 Proud father of MIDN 1 Jason D. Jablonski, United States Naval Academy, 27 Nov 2016. Most recently on a streak of 1431 consecutive days of running at least 2 miles. Ran a few legs (including JJ's Hero Marker mile) in Central NC in the 2018 National RFTF, and this is my fifth year running with NYRFTF.
I live in a small town in Upstate New York.  This is my sixth year as a core runner for the New York Run For The Fallen.  I am honored to be able to continue to be a part of this memorable and meaningful mission to honor New York's Fallen Heroes and First Responders.  This Mission has changed my life in countless positive ways and I am grateful for every mile and minute of it.  I will continue to honor those that have paid the ultimate sacrifice for our country's freedoms as long as the Lord allows my body to do so.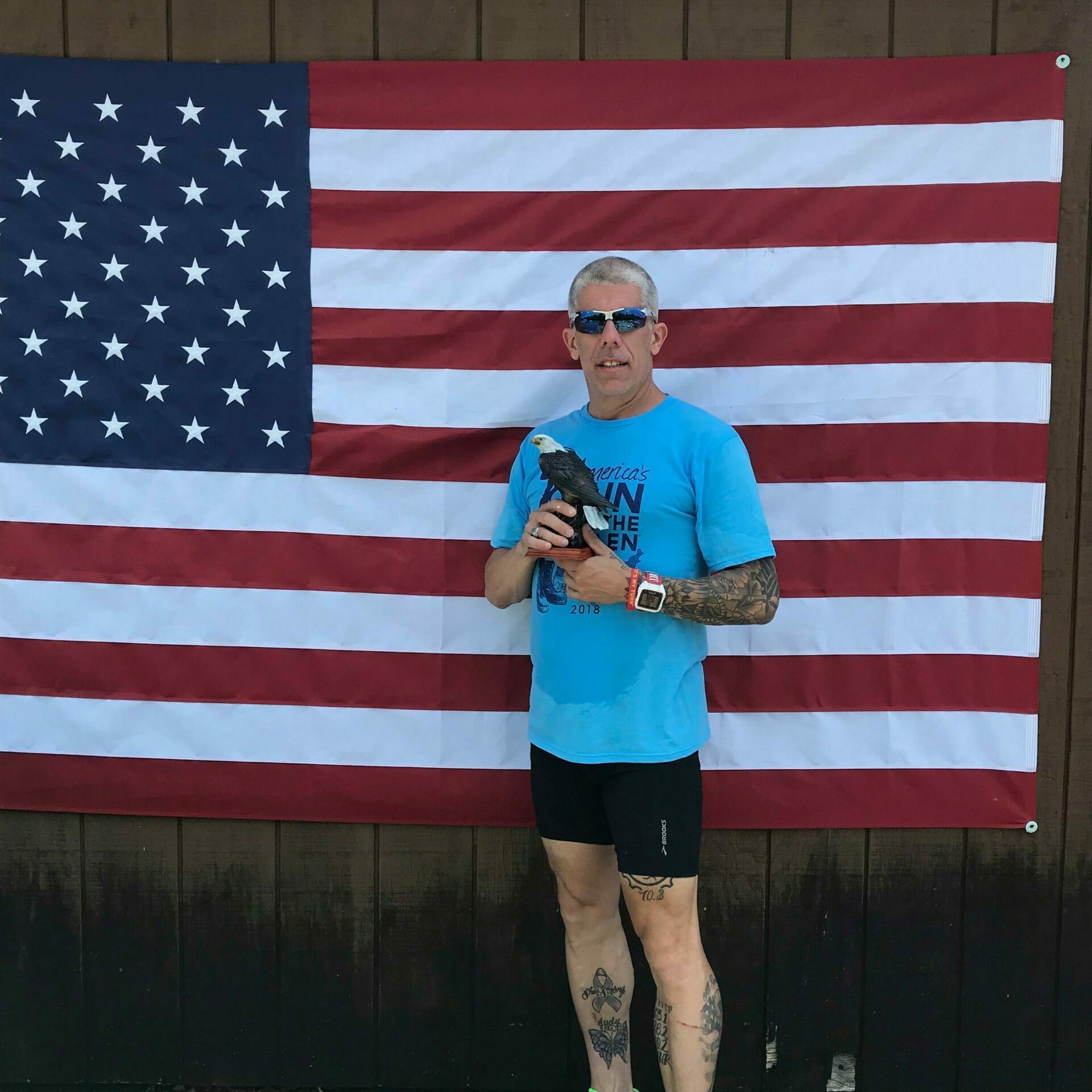 I'm a retired U.S. Army Combat Veteran. This will be my 6th year participating as a Core Runner. My mission is to ensure that all those service men and women who made the ultimate sacrifice are never forgotten. And to honor the Gold Star families who live daily with the memories of their loss.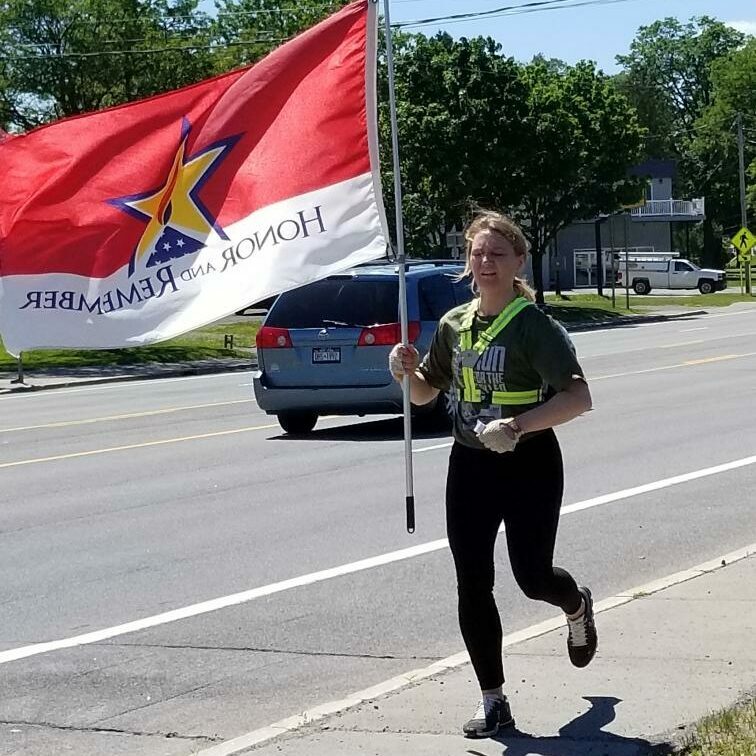 This is my fifth year running with the NYRFTF team. I love our country and all those who have fought, served, and fallen to defend it. This run is an opportunity for me to give thanks to those who protect us every day and those who have given the ultimate sacrifice for our freedom.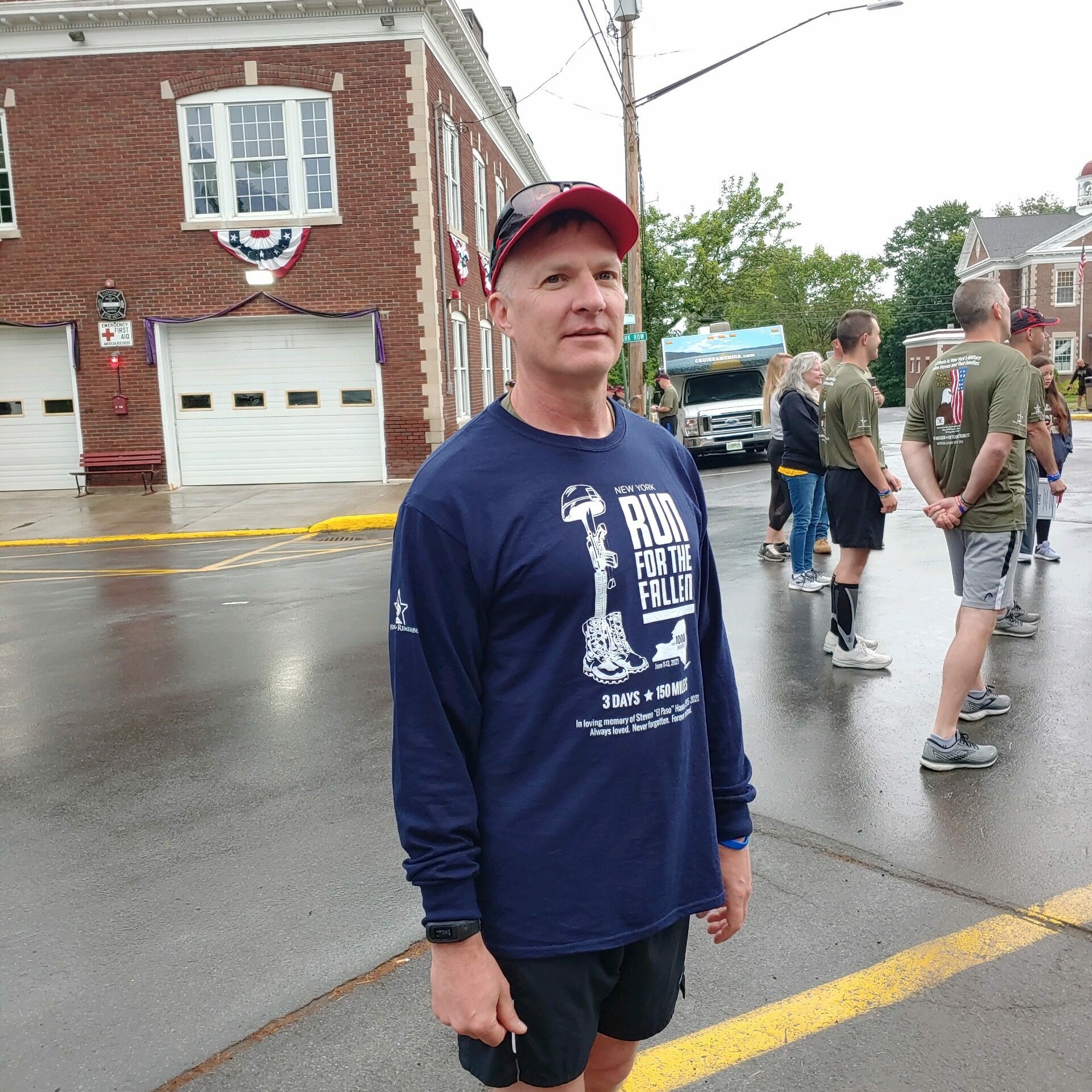 I was introduced to NYRFTF through friends at Team RWB/Syracuse chapter.  This will be my fourth year supporting this event.  I am a retired Air Force veteran.  I spent six years on Active Duty and after a six-year break in service spent 14 years as a full-time member in the NY Air National Guard at the Eastern Air Defense Sector in Rome NY.  I am currently an Air Force Junior ROTC instructor at Rome Free Academy.  Father of three in college and two dogs at home.
This is my second year running with the New York Run for the Fallen. I joined the RWB Syracuse Chapter as a civilian to honor my Dad who served in the Navy during the Korean War. I'm honored to be one of the core runners and I am looking forward to honoring our fallen heroes and their families.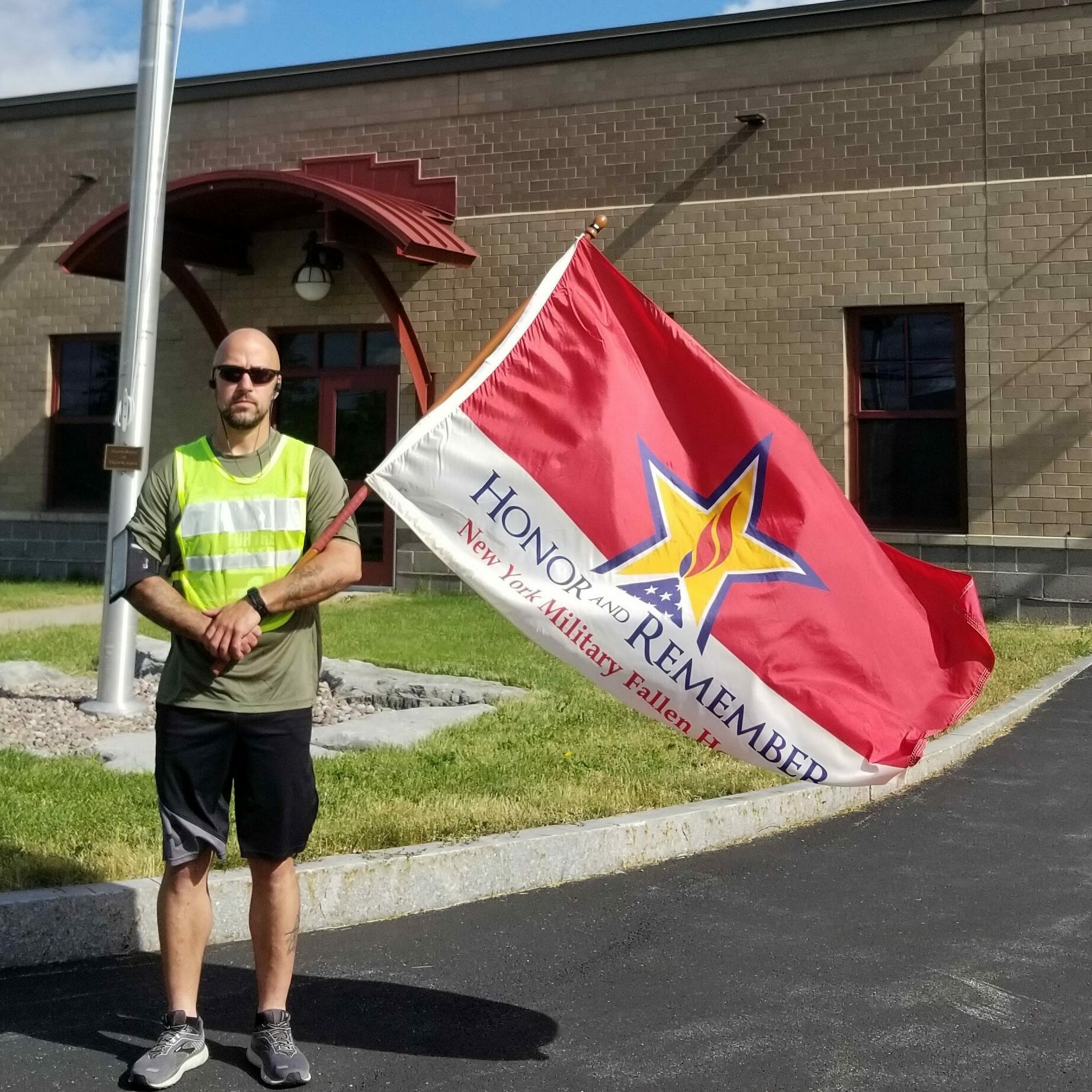 Navy Veteran 2001-2005, Helicopter Electrician. Currently in research and development for pharmaceuticals. Operation Enduring Warrior Community Ambassador and training for the Masked Athlete Team. Run with RWB out of Syracuse. Play rugby in Binghamton and practice Jiu Jitsu in Sidney. Volunteer at Wolf Mountain Nature Center.
I have enjoyed running since junior high school. My father encouraged me to run and has been an inspiration Running introduced me to great people, joining in the Run for the Fallen & Ragnar team relays. I am grateful this is my fifth year to honor the sacrifice of fallen soldiers and their families.
My father served in the U.S. Army.
I grew up in NY and have made every effort to return to my roots since I joined the Navy almost 10 years ago. I view The Run for the Fallen as the best possible way of combining my love of running and honoring those that have given their lives in support of our country. This will be my third year participating in this amazing mission.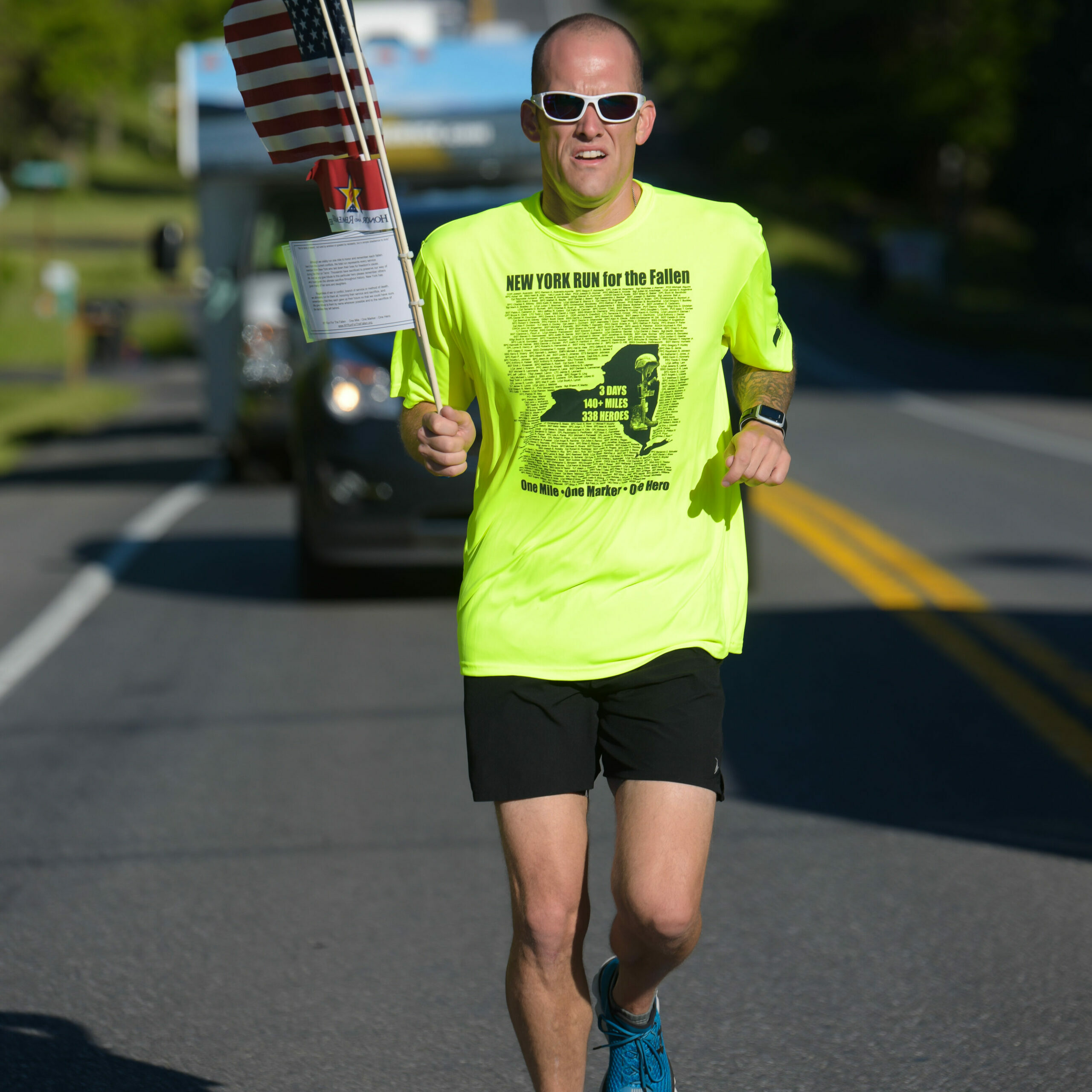 I live with my wife and two children in Saratoga Springs. I joined the Air Force in 2002 and served 6 years. I currently serve full-time in the Air National Guard, with the 109th Airlift Wing in Scotia, NY. Running has been my passion for many years and I'm thrilled to be able to use running to pay tribute to our brave Heroes. It's an extraordinary honor to be chosen to participate in the NY Run For The Fallen.
I am from New Hartford, New York and I am currently a junior physical therapy student at Ithaca College. I love to run and have been a runner since junior high. This will be my fifth year running as a core team member. I love being able to run and support this amazing cause. Honoring and remembering our fallen heroes and their families is a privilege and I'm so grateful I have the chance to do so. As a civilian, this run makes me truly appreciate what our service members sacrifice and go through in order to keep our country safe.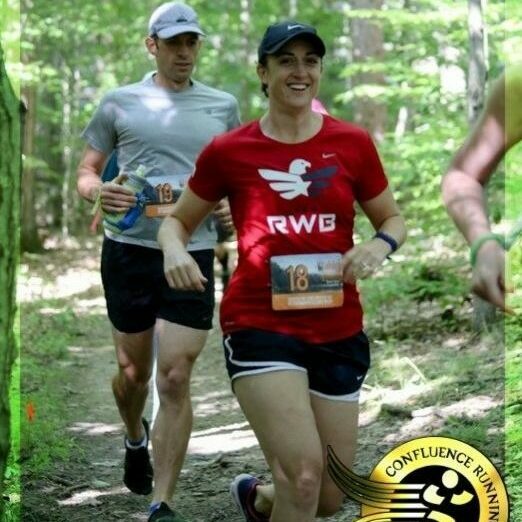 This is my second year participating in the Run for the Fallen. I am honored to be one of the core runners. I have been a runner my entire life. Being a part of this cause helps to add meaning to my runs. I look forward to honoring our fallen soldiers and their families.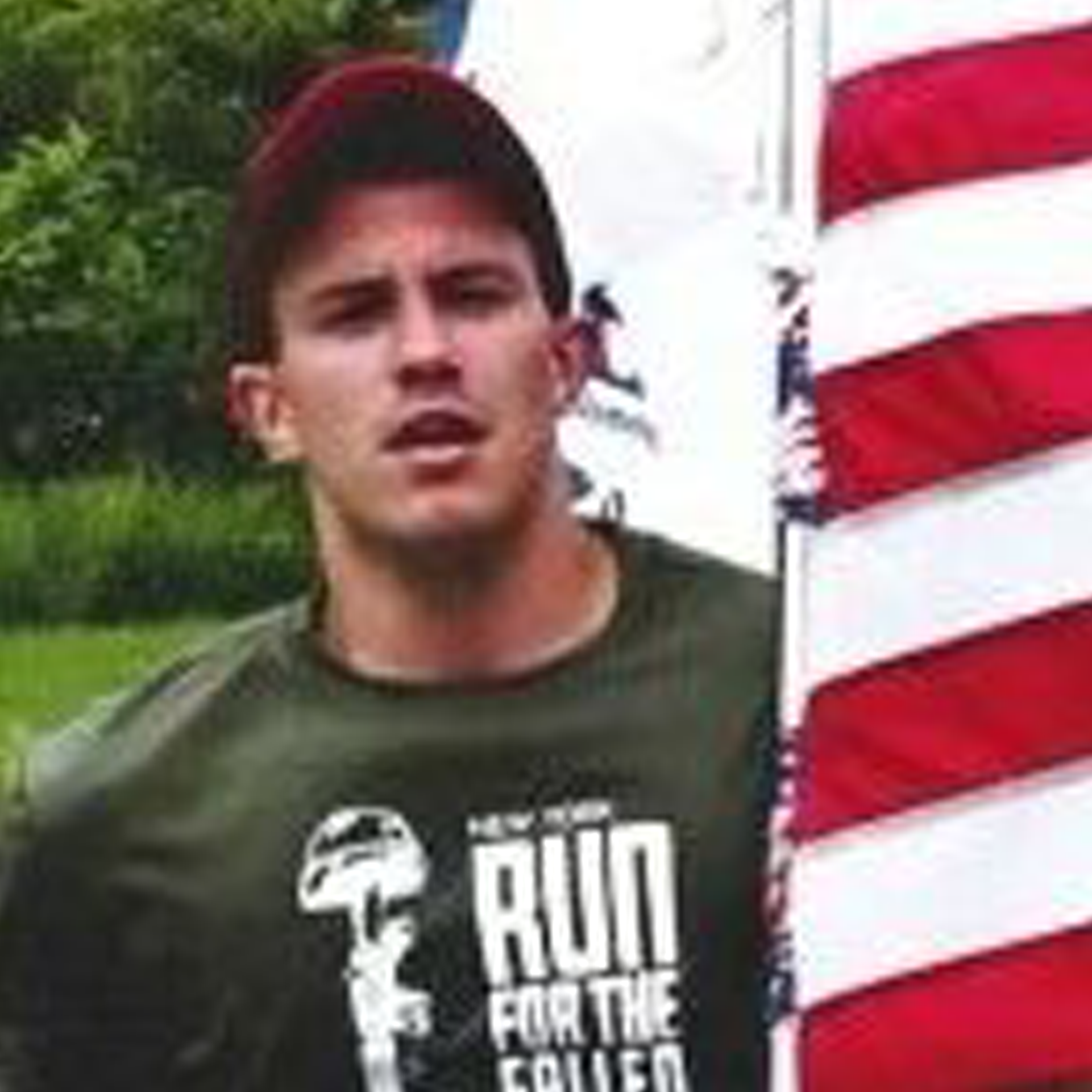 This is my 5th year as a core runner. I love the mission and purpose of the run and the belief that no hero should ever be forgotten. The idea of being able to run in honor of those who have given the ultimate sacrifice inspires and motivates me to give life its all every single day. I am honored to have the privilege to run for those who cannot and continue to spread their legacy and remembrance. I am a senior at Norwich University where I participate in AFROTC and the Corps of Cadets.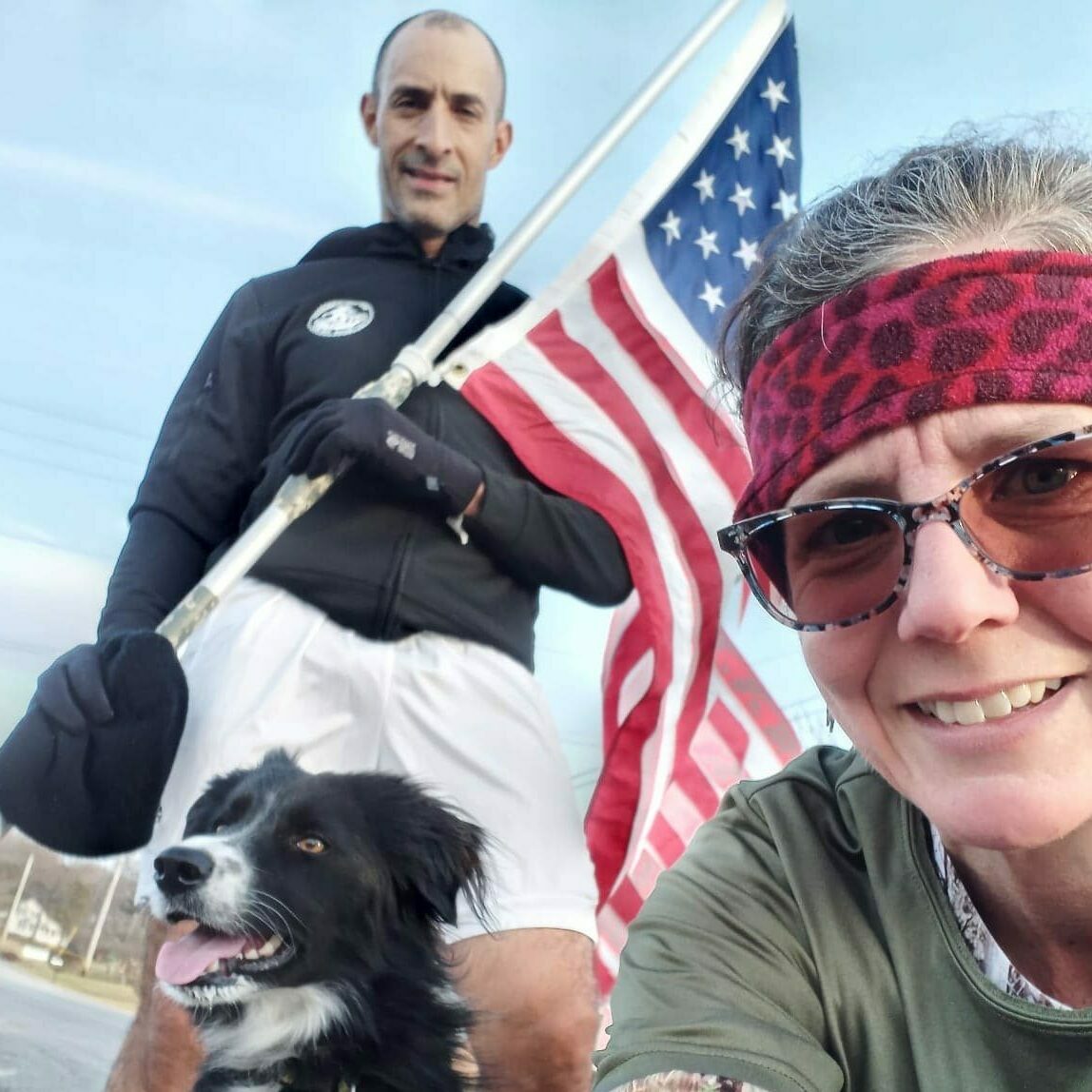 Megan has been so blessed to run in this mission by increasing duration each year since 2018. What an extra honor to participate together with her husband, Mike, USMC veteran-Desert Storm/Shield last year. Mike hopes to run a couple of hero markers again with us this June, but has some ongoing physical limitations at present. M&M stay active with their local church, a crazy border collie-Dixie, triathlon (Meg runs, Mike sherpas), soccer, three adult boys and hobbiting up on their hill. May God bless our Gold Star families!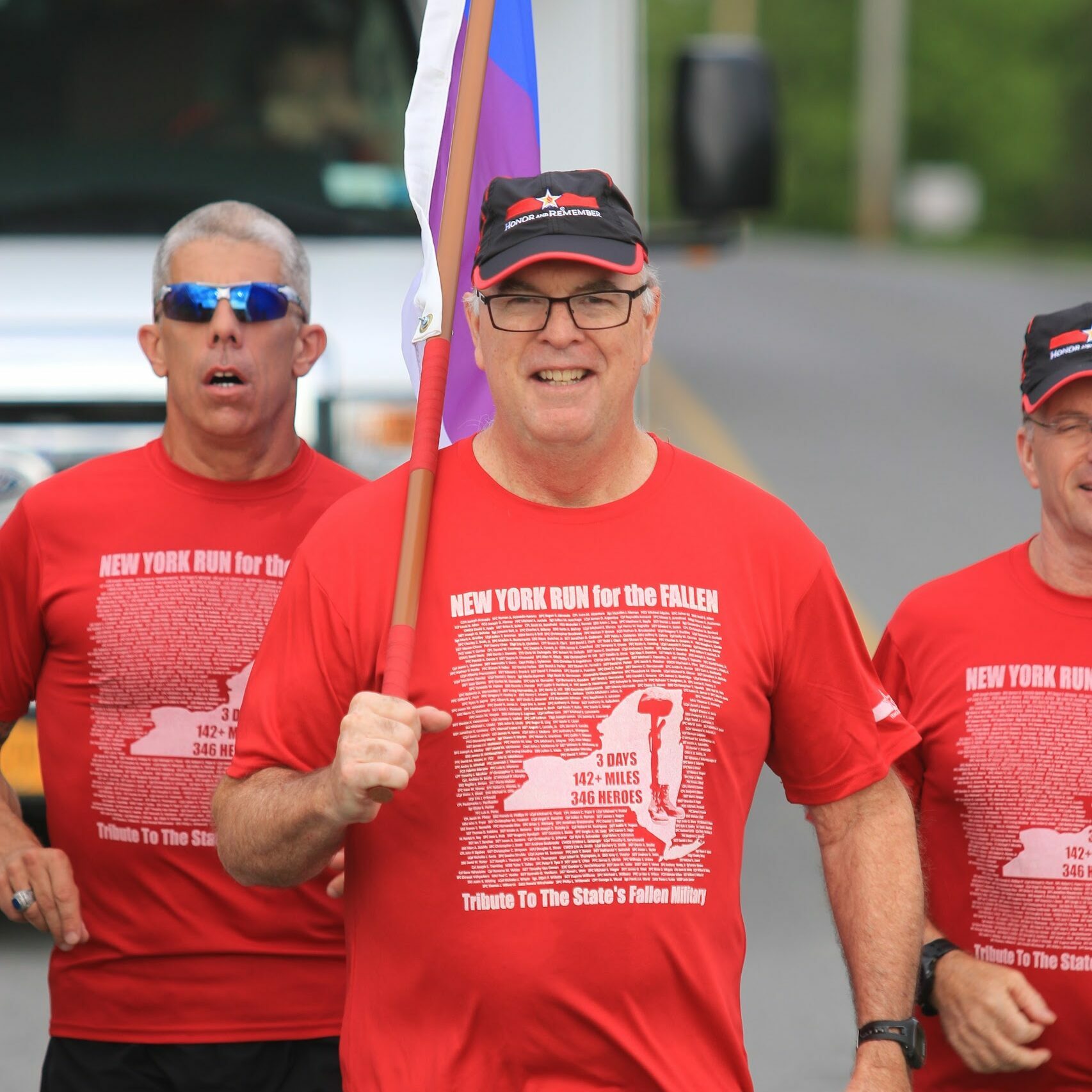 Though not a Veteran myself, as life goes on,  I appreciate more and more the sacrifices that have been made by our brave men and women in our armed forces. I was introduced to the NY Run for The Fallen by a good Friend, Jim Carrabba (also a core runner).  Running these miles, Honoring and Remembering those who have made the ultimate sacrifice on our behalf, and on behalf of freedom seeking people around the world, have been the MOST meaningful miles I have ever, or will ever run.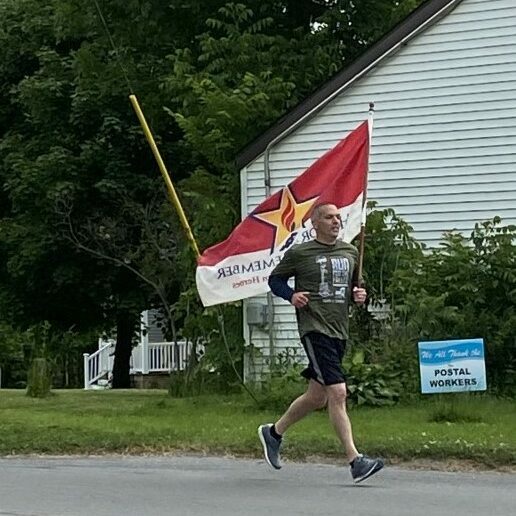 I am honored and blessed to participate in this amazing tribute to our Fallen Heroes.  As a civilian, I have the utmost respect for our Military and the everyday sacrifices that they choose to make for our Country.  As a fourth-year runner, I am thankful that I can run for those who are not able to and that I can support the Gold Star Families.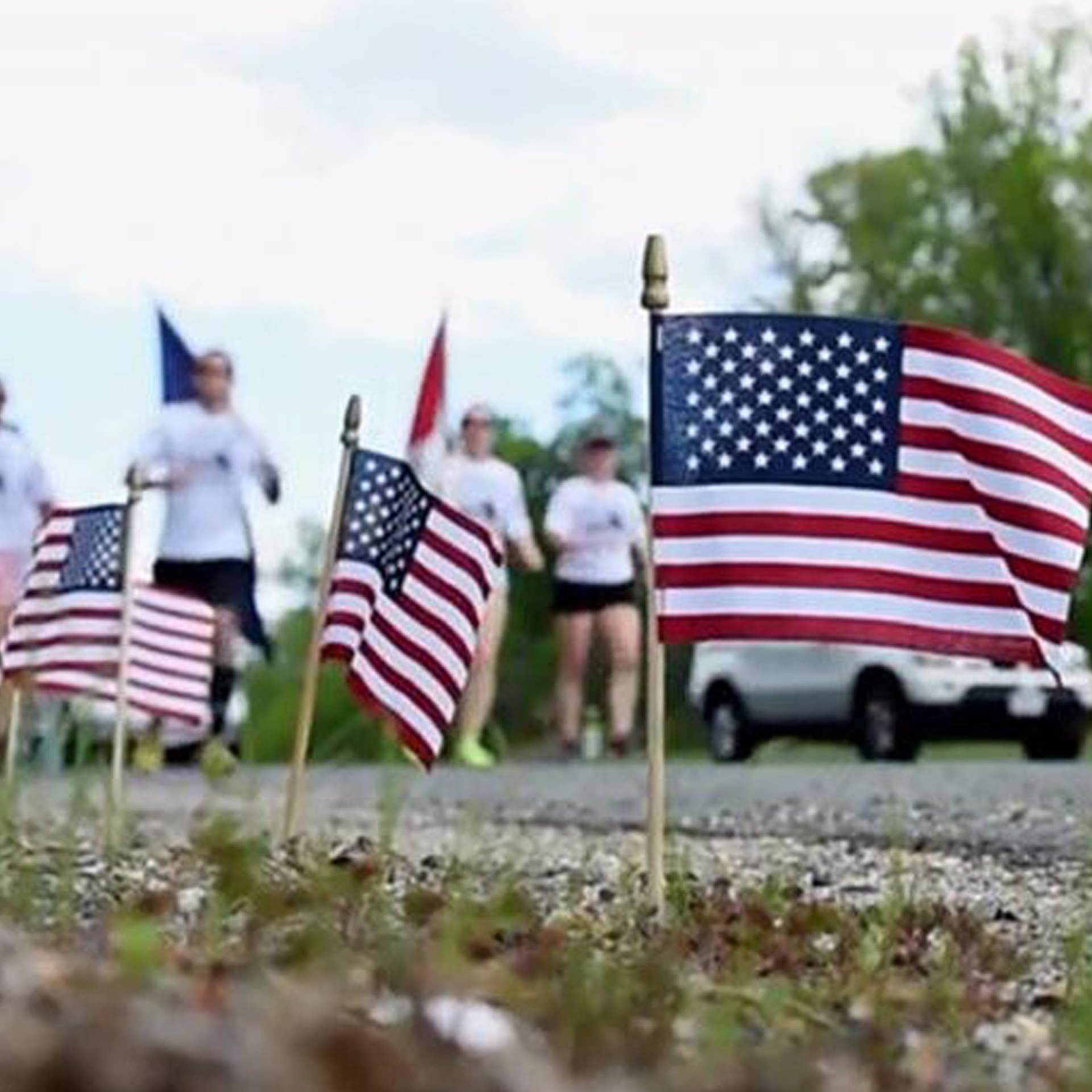 I am thankful to be joining the Run for the Fallen family as we bring honor and remembrance to New York's military fallen and their families.